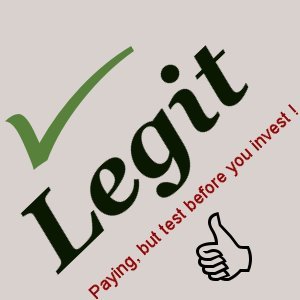 Pays per Ad

Min to cashout

Wait time $


Payout Methods

$0.005



$2

1- 5 BS days


Up to 15 days



PayPal, AlertPay


Upgrade Price

Ref Program

Accepted
Countries
Accounts deleted
after inactivity?
$4 - $425


1 LEVEL




20 Limit


for standards

ALL


YES



We are going to add
FindingBux
to our legit list, but we must warn you that this site status can change at any time. Just
because it is
paying
today, doesn't mean it is going to pay tomorrow.
Here are the pros & cons of this site:
PROS:
1. It Pays -
Payment
proofs are showing on their forum.
http://findingbux.com/forum/main_forum.php?cat=3
2. Fourm - They have a active forum. Forums are a great asset for PTC sites, since
members
can post proofs, stay
up to date
, and get support from members and staff.
3.
All countries
Accepted - So far there are no restrictions and all members can earn from this site no matter what country they are from.
CONS
1. Rate Per Click -
This site only pays $0.005
per ad clicked. Although in return this will make the site more stable and able to stay online. But many might not see this site worth their while. Especially if they are use to those other bux sites paying a higher rate. If you want a better rate per click you have to upgrade.
Some Things You Should Know About This Site...
Site at first was owned by Todd Olshefski <-- (a scammer) and then it was sold to Phil Damato (around Dec 16th, 2009). A owner who is now paying and running the site as it should be.
admin
Posts: 117




Findingbux is owned By me, Phil Damato, not Todd. I bought the

domain name

from him as well as taalel.com and he scammed me out of alot of money. go check our forum for any proof you may need. I am tired of these accusations and have contacted the FBI in the United States and any members who spams our forum again will be turned over to them and they WILL COME AFTER YOU, no matter what country you live in.


http://who.is/whois/findingbux.com/


Registrant:
Phil Damato

Registered through: GoDaddy.com, Inc. (http://www.godaddy.com)
Domain Name: FINDINGBUX.COM

Domain servers in listed order:
NS1.POLARWEBSERVICES.COM
NS2.POLARWEBSERVICES.COM
NS3.POLARWEBSERVICES.COM



---

Message edited at 12/26/09 12:32:11


Posted: 12/23/2009 15:28:49
http://findingbux.com/forum/view_topic.php?cat=1&id=45
(source)
They increased the direct referral limit for standards from 15 to 20. If the site grows they might increase it again. Upgraded members can have more referrals depending on the type of upgrade your purchase.

Payments will be made usually within 1-5 business days up to 15 days of cashout request.
Site Created on: 26-Sep-09
Using GeN3 Version 1.4 Script

Summary:
At the present time the site seems to be a paying and safe site to use. We will continue to monitor this site. If anyone would like to share their experience that they had with this site, whether it is good or bad, feel free to do so in our comment section at the end of this review.